How Touchpoint Design became
The Co-Foundry
What happened when we took a leaf out of our own branding book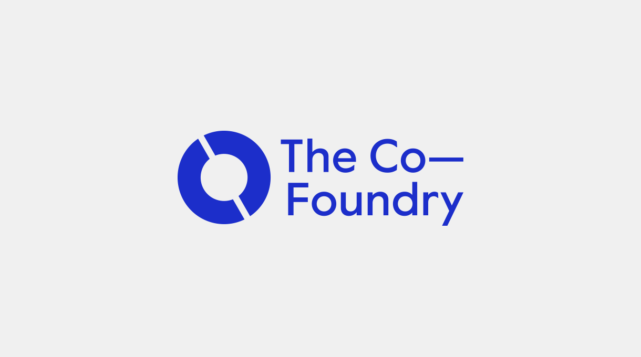 Have you heard the one about the shoemaker's children who had to go barefoot? Or indeed, the architect whose home stayed a perpetual work in progress as he was forever prioritising client work? Many of us don't draw breath for long enough to give our businesses the benefit of the knowledge and experience we share day-to-day with our clients.
With all the changes the past eighteen months or so have wrought in everyone's lives and in the world at large, I decided to take a leaf out of my own branding book and turn the spotlight on Touchpoint Design, the studio I founded in 2015. I had a strong feeling it no longer accurately reflected what we were about and the direction we were moving in. Our brand assets, from the name, to the logo and website were beginning to feel out of date and inauthentic.
Putting myself in my clients' shoes was something I approached with a measure of trepidation. But in fact, it turned out to be an exciting, challenging and enlightening process and I'm sure my lovely clients will benefit from my having sat on the other side of the table for a change!
Starting with the fundamentals
Like me, you might have come to the conclusion that something has to change about your branding. But perhaps you can't pinpoint exactly what. The Brand Discovery process we create for our clients is really useful at this stage.
It takes you to the heart of your business, focusing on the value you bring to your customers. From all the elements that feed into this value, you can start to distil your brand essence.
It's usually a pretty simple answer drawn out from what can feel like a messy equation:
What you care about + What your customers/clients/prospects care about (+ where they can be found) = Your Brand Essence.
It looks something like this:
Discovering brand essence
When we find that sweet spot in the centre – the brand essence – the brand strategy becomes all about communicating that position to the people you care about most: your current and future customers, your team and your wider community.
Sometimes this newfound clarity reveals that some radical changes need to be made – that your brand needs more than just new copy, a change of marketing strategy or a visual refresh…that what's called for, as was the case with Touchpoint Design, is a full renaming and rebrand.
Addressing the 'What'
Touchpoint Design was an integrated design studio that worked across a range of sectors. With our 'navel-gazing' exercise ably kick-started by being part of Janusz Stabik and Robert Craven's GYDA Mastermind Group, we began to niche down to identify the key sectors we worked in and would be choosing to focus on in the future.
Some changes within Touchpoint, such as members of staff leaving and ways of working being upturned by the pandemic, meant the business itself seemed to be evolving and suggesting a path to how it might best work in the future. To all intents and purposes, 'we' became 'I' and I started to work as an independent consultant, bringing in some amazing talent to support me depending on client need. A lean, agile and highly expert offering was born.
Uncovering the 'How'
The new way of working allowed me to refine a brand process that relied heavily on co-creation. This became fundamental to Touchpoint's 'new way of doing things'. I believe ideas can come from anyone, and are not just the preserve of the design team. In this way brand identity design can, to a large degree be democratic – not, God forbid, 'design by committee' but more coming up with 'winning ideas by group spark' – less about ego and more about listening, facilitation and insight.
What I found particularly liberating about this whole exercise was that I learnt to say 'no' to work that didn't fall into our brand essence sweet spot – if the project didn't start with a brand identity challenge then it would be passed on to individuals and companies that had, in the past, been our competitors.
How defining the 'who' can lead you to your 'why', revealing 'what your customers care about'
Exploring this stage called for some additional niching down. It was a case of going deeper and defining exactly who I added the most value to. One of my expert collaborators and friends, Sonja Nisson played an invaluable role here, interviewing some key clients and helping me settle on the 'who'. This is all about accepting, "that if you want to be good at something (and known for it) you can't be good at doing everything, for everybody." (Ben Potter)
The acceptance I came to was that I work best with mission-led founders of creative and tech brands, those "small giants" who "choose to be great instead of big." (Bo Burlingham, Small Giants, Companies That Choose To Be Great Instead Of Big)
These include an opera company that's disrupting its category, a 'tech for good' charity looking to increase its impact and an immersive animated content studio on the leading edge of innovation in its field. Sharing common challenges, these became my 'who' – helping them thrive became my 'why'.
Finding a name that fits
Touchpoint Design now felt like an ill-fitting shoe and I needed a new pair of kicks!
My years of experience have taught me that trying to be too clever at this stage (e.g. coming up with a pun or in-joke) is rarely the best way to go – very often the best solution is taking the straightforward route. Touchpoint's new name, The Co-Foundry has a sum all of its own:
Co =
co-creation, with expert collaborators
+ Foundry =
this has two elements to it: The founders who are at the heart of our brand name and a foundry being the place where brands are forged – pouring all the elements and ideas into a bespoke mould and Boom! a new brand being formed.
Final words from the other side of the branding process
A message to all the clients I have put through this 'pain' – I salute you for your energy, enthusiasm and openness – it's not always easy is it? But definitely so very worth it.
If you'd like your inbox to glow with more musings hot off our presses, do sign up to our monthly Co-Foundry Hot Metal Press newsletter – it's full of tips, insights and ideas on branding and creativity.